slvwma-weed-list-2014-1-7-15-updated
noxious-weed-fact-sheet-1
Rio Grande County Weed District                                                                                                                                          10/4/16
Brianna Brannan
Noxious Weed Fact Sheet                                                                            
Canadian Thistle–                 
Canada thistle (Cirsium arvense) is a non-native deep-rooted perennial that spreads by seeds and aggressive, creeping, horizontal roots (rhizomes) that can grow 15 to 30 foot in depth. Canada thistle can produce about 1,000 to 5,000 seeds per plant that can survive in the soil for 20 years or more. Typically, it reproduces vegetatively through a creeping root system, and can quickly form dense monotypic stands. Every piece of root, from 1/2 to 1 inch in length, is capable of forming new plants.
Hoary Cress (short white top)-          
Hoary Cress is a non-native deep rooted perennial that thrives in a wide range of soil types. They grow to two foot tall and are extremely invasive.  Hoary Cress reproduces via both seed and root, with root being the primary reproduction source. One plant can produce from 1,200 to 4,800 seeds per plant with a soil seed bank life of three or four years. Within three weeks of germination the seed produces new rosettes which emerge within 3 ½ weeks and root shoots that have been documented to grow as fast as approximately 25 ft in a season . A single plant can produce 450 new shoots in a single growing season.
Perennial Pepperweed (Tall White Top)    –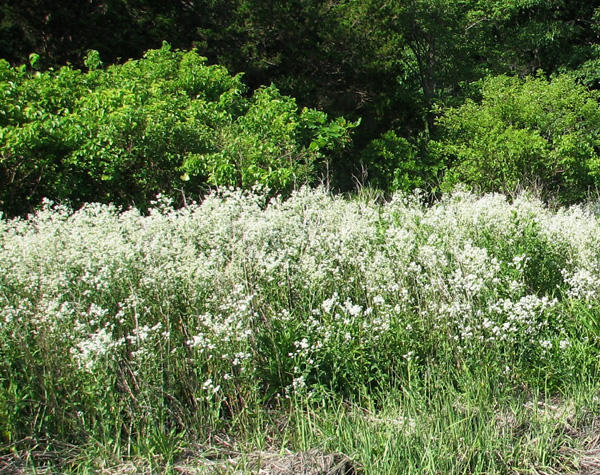 Perennial Pepperweed can grow to a height of six foot tall and reproduces via both seed and root. Each plant produces over 4,800 seeds per plant but seeds have been reported to not have the reproductive capabilities as the root. Most of the pepperweed's root system grows within the first 2 foot of the soil but have been known to penetrate to a depth of 10 foot or greater and expand at a rate of 10 feet per year. Root segments produce adventitious buds; pieces as small as 1 inch in length are capable of generating new shoots. The Perennial Pepperweed is also known to have Allelopathic properties which prevent propagation of desired plant life.
Black Henbane –     
Black Henbane is an annual / Biennial with a long tap root and reproduces only by seed, but produces approximately 10,000 to 500,000 seeds per plant. Seeds are known to last approximately 3-5 years in the soil. Black henbane is narcotic and all parts of the plant are poisonous and potentially lethal to humans and livestock. The plant and seeds have been used as a hallucinogenic and the flowers and give off an odor that causes a kind of "high".   
Russian Knapweed —        
Russian Knapweed develops on many soil types, is very drought tolerant and is known to have allelopathic properties. Russian Knapweed is reported to have lethal effects on livestock due to its uptake of Zinc in the soil. The plant reproduces primarily through root system and fragments of one inch or less can reproduce into a new plant from depths of six inches. Russian Knapweed also reproduces via seed in small quantities, survival of seeds are from 3 to 5 years in soil bank, and new growth by seed is uncommon.
Resources used :
Montana University Extension: http://store.msuextension.org/publications/AgandNaturalResources/MT201005AG.pdf
DiTomaso, J.M., G.B Kyser at al. 2013. Weed Control in Natural Areas in the Western United States. Weed Research and Information Center, University of California.
Colorado State University: http://extension.colostate.edu/topic-areas/agriculture/noxious-weeds-invasive-plant-species/
Colorado Department of Agriculture: https://www.colorado.gov/pacific/agconservation/canada-thistle
Whitson, T. (2006) Weeds of the west. Jackson, WY: Grande Teton Lithography
Merrill A. Ross : /https://www.btny.purdue.edu/Pubs/WS/CanadaThistle/CanadaThistle.html
PLEASE NOTE: These are only a few of the noxious weeds that are controlled in the Rio Grande County, for additional weed information please contact the weed district at 719-852-4804 or email rgweed@riograndecounty.org
        Visit our related pages for
Federal Regulations and Standards
,
Weed Reporting Contacts
, and
Integrated Weed Management Strategies
.For a list of Noxious Weeds in the San Luis Valley go to 
SLVWMA Weed List 2014 1-7-15 updated
,click on an image for more information and to download a .pdf file from the Colorado Department of Agriculture website.
List A species in Colorado that are designated by the Commissioner for eradication.
List B weed species are species for which the Commissioner, in consultation with the state noxious weed advisory committee, local governments, and other interested parties, develops and implements state noxious weed management plans designed to stop the continued spread of these species.